My gear for a full day of skiing
Just last month, I took a trip to Idaho to see my friend Andy. That weekend was filled with so much fun, including ice fishing for trout and skiing at Big Sky, Montana.
Today I want to share with you the gear I used that made it such a great day of skiing. Let's get right into it.
❗
Wanted to call out that I am not sponsored by any of the products or companies that I mention below. These are just the products I have been using!
Ski Gear
If you are skiing you certainly need ski equipment. I by no means have the best gear, but it works for me!
Skis, Ski Boots, and Poles
First we need skis. I ended up getting mine as part of an entire ski package last year from Level Nine.
Ski Package
I bought a ski package from LevelNine last year that included skis with bindings, and ski boots. I bought poles from them as well.
Skis - 2021 Elan Truflex 76 - These are not that wide of skis and are really best for groomers, but I like them as I am fairly new to skiing
Boots - Dalbello Prime 80 Ski Boots - These are great. Very Comfy, buckles are a sturdy metal design that work well.
Poles - Just a generic set of LevelNine ski poles that I added on when I bought the ski package
Link to 2022 LevelNine Ski Packages
2. Winter Jacket - Under Armor Jacket (not sure what kind)
There are hundreds of winter jackets out there in all sorts of styles and colors. I  have used a black Under Armor winter jacket I got 5 years ago for really cheap when Gander Mountain was closing their stores. Seriously though, anything that is warm and waterproof will do the job. As a bonus, mine has a zipper chest pocket which is great for my ski pass to stay.
3. Snow pants - Arctix Snow Overalls
Personally I prefer bib snow pants because they stay on better, and they keep me warmer on the hill! Here is a link to Amazon for the exact pair that I wear.
4. Helmet - Akaso Ski Helmet
Seriously. Wear a helmet. You want to be safe out there and you never know when you could hit a rough patch of ice or lose control. I will never ski without a helmet, and you shouldn't either. I wear one made by Akaso that I found on Amazon. It is warm enough that I don't need a hat, has a clip on the back to keep my goggles in, and I think it looks great!
5. Gloves - Achiou Winter Ski Gloves
Waterproof, warm gloves are also important while skiing. Following the theme, I found another great pair on Amazon. I haven't worn them many times, but so far they have held up for me!
6. Buff - Various assortment
I usually wear a buff or two to keep my face warm. On those extra cold days I tuck it into my helmet to really keep myself warm. I have gotten so many of these for free during Covid-19 so I will just grab some that I have. I don't have one specific pair to recommend.
7. Goggles - Zionor Ski Goggles
I have two pairs of ski goggles. One of them is for low light or overcast conditions as the lens is more see through (86% VLT). The other is for sunny conditions as it blocks out more light (~15% VLT). These have worked for me but I could see myself upgrading to a more expensive pair next year.
8. Ski Socks - Weierya Ski Socks
These are great because ski boots are tall and you want a tall, padded, warm sock to go under your ski boot. Another Amazon purchase that was cheap and does the job for me.
As a base layer I usually just wear a dri-fit long sleeve shirt, particularly my thermal one if it is clean. Some people swear by merino wool base layers, but I have found my dri-fit shirts and sweatshirts work fine. Then for bottoms I usually wear spandex and sweatpants. That is all that I use for skiing!
---
Cooking Equipment
None of the remainder of the gear list is technically necessary for a day of skiing. If you watched my video though, it was so nice to pull off the ski boots for a short bit and cook a warm lunch to enjoy. I used a lot of the same gear that I use for camping which is great. Here are the main items to consider
Table - Poler Adventure Table
This table is an awesome little contraption. It packs so small and fits under my shelf in the back of my vehicle. It is also aluminum so it won't melt or anything from heat.
2 . Propane Stove - Coleman Classic 2 Burner Stove
Growing up camping, I am quite familiar with various camping stoves. Propane stoves are very reliable and they work great for the outdoors because they also pack into a small rectangle shape. I have only used this particular stove I bought from Target a few times, but it works great! Just make sure not to forget propane.....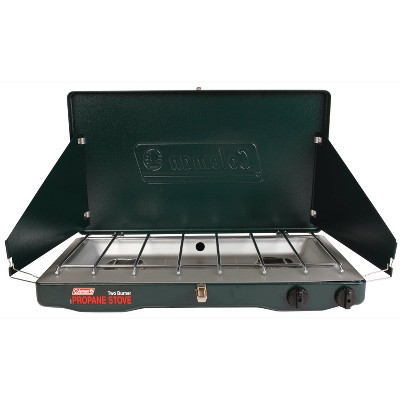 3. Cast Iron Pan - Lodge Cast Iron Skillet - 12 inch
For some reason I associate the outdoors with a nice cast iron pan. They are so versatile and work great for all cooking needs.
4. Lighter/ Matches - Any lighter works
Yeah make sure not to forget a lighter. Otherwise you are going to have some trouble starting your stove.
5. Folding Chairs - Various Walmart Folding Chairs
You will probably want somewhere to sit after you manage to get your ski boots off. I keep a few folding chairs in the back of my vehicle for just that.
6. Cooler - Ozark 12-Can Soft Sided Cooler
This is certainly a cheap cooler. I don't think it would keep ice frozen for much more than 5 hours, but you are skiing. It is cold outside anyways you could honestly put your drinks right into the snow! So any cooler really works for this.
7. Dishes
I have a variety of camping silverware like sporks and a long spoon. Soon I will be getting plates and more, but for now I just use paper plates. We also didn't have a spatula and just used the silverware to flip our burgers.
8. Outdoor Mugs - Sunwill 14 oz. Coffee Mug
A great outdoor mug will serve you for many years. Sipping on some hot chocolate while taking a break from skiing is one of the best things ever. I bought two mugs from Amazon.
9. Trash bags - Any kind
Make sure to pick up all your trash! We want to preserve the outdoors and ski resorts so it is important to have trash bags along.
10. Food!
Wouldn't be much of a cookout without food! This is the small list of what I packed for that specific day. We just made burgers because they are easy.
Frozen burgers - quick and easy to cook
Cheddar Cheese
Ketchup
Hamburger buns
Bag of kettle chips
Various alcoholic beverages - gotta have a drink while you relax right?
Olive oil/butter/Pam - need to grease the pan
Conclusion
This isn't the ultimate list of gear, this is just what I use personally. Honestly it is all about finding what works best for you. Maybe you will take something from my list, maybe not. All that matters is that you find the gear that allows you to have fun on the hill!
---
Interested in following along with my journey more or connecting with me? Make sure to follow me on my socials!
Until next time!
-Hawkin